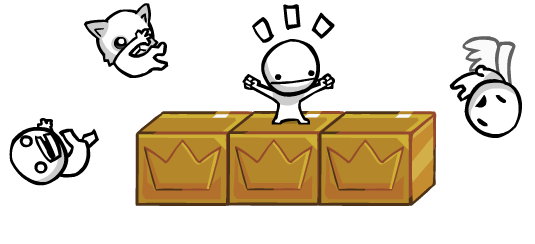 Greetings,
I hope some of you got a chance to check out BattleBlock Theater at ComicCon last week! What did you think?
We've been having fun coming up with all sorts of new ways to throw kick discombobulate toss punch interact with your friends and this mode started to take shape.  It's like a king of the hill game- claim the special golden blocks as your own and do anything you can to keep the other guys off. I mean, look. These are your blocks and you are the king of them. You can't let just anybody come and stand on your blocks. Give those interlopers the royal treatment. And by royal treatment I mean uppercut them into some spikes or push them into some nice lava. That is the sign of a true king.
If you missed us at ComicCon, you'll have another chance to check out all the new features in BattleBlock at Penny Arcade Expo in a few weeks!  Hit the jump for some kingly screenshots.
kelly