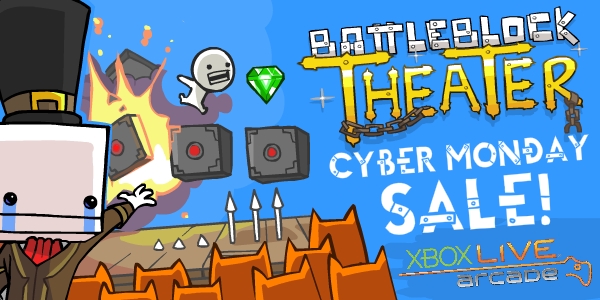 On December 2nd, 2013, XBLA players will be able to download the full version of BattleBlock Theater for 67% off the original price! You can download the trial for free now and test out the waters before Cyber Monday. Already have it? Share this info with a frienemy that you'd want to play this co-optional game with!

BattleBlock Theater synopsis: Shipwrecked. Captured. Betrayed. Forced to perform for an audience of cats? Yes, all that and more when you unlock the full version of BattleBlock Theater! Over 400 levels, 300 prisoners to be freed, co-optional game play, online arena mode and tons of weapons! The full version includes a level editor so you can craft your own mind bending trials! From the creators of Castle Crashers comes the most unbelievable story of all time! Maybe?



This sale is on Cyber Monday only, so set your alarm for December 2, 2013!