Our latest and greatest in Alien Hominid development has been quite hefty. It's a whole lot to digest, one might say… and with good reason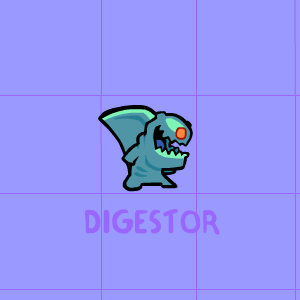 Ah yes, the fan favorite Digestors have made their way to be a part of this new era of invasion-ing, and have arrived to help you jump on your enemies. If you were somehow able to survive until the Area 51 section of Alien Hominid HD, you'll recognize those little shark finned chaos agents. How cute!
But that's not all, of course; there's a huge list of changes we showed off in our most recent development livestream. To uncover all of our secrets, you can check out the replay or just keep reading on this page you're already conveniently on.
Digestors are back from the original Alien Hominid! They're joining the fray and will run with your alien like pack animals and jump on enemy shoulders
Crabwalker enemy has been introduced as a hazard. This Anti-rooftop-alien creature hops past you and turns on an UPWARDS beam!
Escar-slow bot added. An Agency robot that slows players when they're close by
New hazard "ladders" force players to jump through the missing rungs or over top
Minimechs now have to be targeted on their chassis, as bullets will zip through the wheelbase
The Acidshot and Flamethrower weapons now leave messes on walls and floors for extra chaos
Alien Spreadshot damage increased
Certain things make the Alien flinch now (like the standard agent blasters and sniper shots) which leaves players vulnerable for a few frames
Alien base stats have been reduced slightly with loot having increased benefits, making your loot matter more
The life system has been reworked — life count carries level to level within a run
Roads have been made lumpier to capture more of that wonky chaos feel
The Bonus Level HUD has been updated for more clarity
Kids will get excited and reward the player at the end of bonus levels
Bonus levels are now 5 waves instead of 10 and significantly more spooky
There are now less objectives total per city block and less intel is required to do objectives (Making for snappier potato-chip-like levels)
A cute speech bubble mutation icon will now appear over player when a charge is ready
Added big bright pickup animations when picking up loot, hearts, or objective items for extra fun and clarity
Mothership coins have been added for purchasing unlocks or altering your next run — you can only purchase one unlock, but in multiplayer everyone can buy one each….
Aliens now look up when you press up on the controls to anticipate shooting upward
Aliens now visually run faster or slower when their respective runspeed has been altered
Alien antennas fitted with physics technology for more adorable bouncing around
A couple of these things haven't been fully implemented into the game yet, but they're well on their way! We hope this latest round of notes has gotten you even more excited about the impending Invasion. I know we are, and we're the ones working on it!!