Back in March, we fulfilled our vampiric destiny by coming into your homes through your monitors and showing the first ever online sneak peek of Alien Hominid Invasion gameplay! But that was three months ago, and now times they are a-changin'. Alien Hominid Invasion has grown and changed and warped and twisted (wait, that sounds kinda scary) since then, and we're excited to show you just how.
On Thursday, July 16th at 2 PM PT, you can hop on over to twitch.tv/thebehemoth or youtube.com/thebehem0th for a very special Alien Hominid Invasion gameplay stream!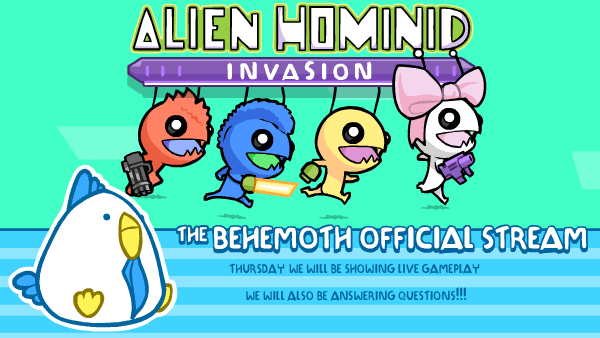 We'll be showing up with a whole list of changes, so that you don't have to play a game of spot-the-differences between then and now (but you sure can if you want to!)
We hope you're as excited as we are, and we're VERY EXTREMELY excited!! See you Thursday! Love you.