Last week we promised to deliver a home roadshow by coming into your houses through your monitors all vampire-like… and now it's finally time for us to fulfill that destiny!
Since we can't travel around the world to have fans demo our upcoming game, we're bringing it to you — tomorrow! Tune into twitch.tv/thebehemoth on Thursday, March 26th at 11 AM PT for a very special Alien Hominid Invasion gameplay stream.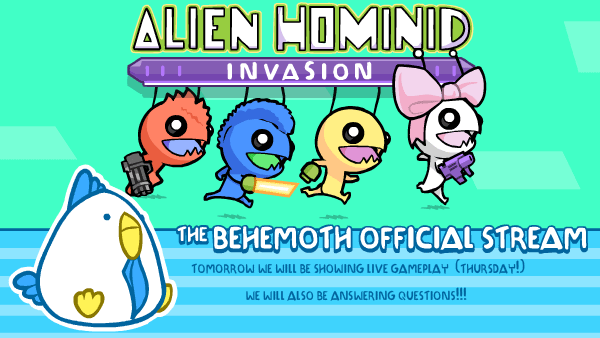 We'll be crossing the boundaries of science and technology to show off live gameplay of the first bit of Alien Hominid Invasion so that you can get a real feel for our new game. We'll also be answering questions that viewers in chat might have, so come curious!
Though we could talk all day about the new game, we don't want to get too excited and give everything away — so we'll just have to see you tomorrow!