The Back Off Barbarian High Score Challenge is coming to PAX West 2019, and we're challenging you, and you, and anyone who comes to the show, and especially YOU!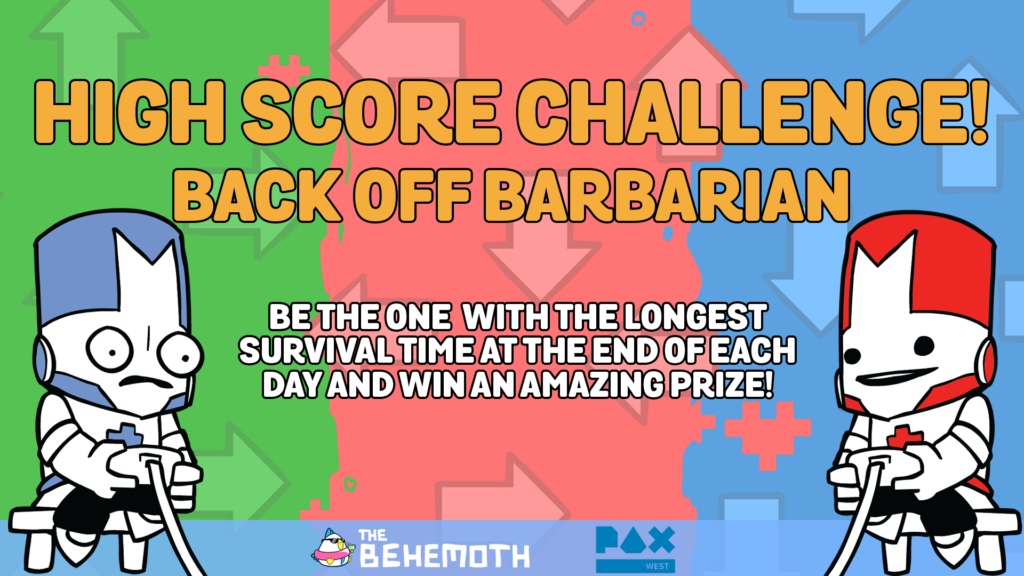 Entering is easy, winning is the hard part. To play, swing by our PAX West arcade at booth #1501 from 10 AM to 4 PM on any day of the show and try to survive longer than your friends, your enemies, and everyone else in Back Off Barbarian. If you manage to come out on top, you'll earn yourself a big ol' bag of Behemoth swag.
For the rule-followers and goody-two-shoes alike, here's a full breakdown of the entry rules:
Play Back Off Barbarian in our arcade between 10 AM and 4 PM any day of PAX West. We'll be located at booth #1501!
If you survive long enough to earn yourself a spot on the high-score table, enter your initials and snap a photo of your achievement with your phone.
Post the picture of your high score to Instagram using the hashtag #BOBChallengePAX.
You can try to snag that high score as many times as you'd like each day; you'll just have to wait in line in between rounds.
Each day of the show, the person with the highest score will be crowned champion and earn themselves an awesome prize! However, an individual can only win one prize for the challenge during the PAX West 2019 weekend.
And that's all there is to it! Bring your shufflin' shoes, and get to surviving. We'll see you there!