Most of our BattleBlock Theater prisoners adhere to No Pants Day all year round, but there's always one guy who likes to ruin a special occasion. You know. That guy.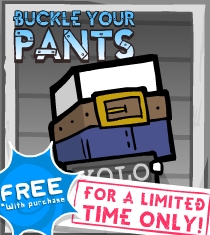 Buckle Your Pants is available as a special reward for those who finish Furbottom's Features in BattleBlock Theater. You can either play the Solo feature or the Co-Op feature to unlock this No Pants Day rebel.

This week, we've updated the Co-Op feature:

XBLA Co-Op Featured Playlist:
SCIOZ REVENGE by EnderDragonSoul
Difficulty level: Intermediate

Steam Co-Op Featured Playlist:
The Fortress by SyntaxX
Difficulty level: Expert

*A special note regarding Prisoner unlocks: Remember you can complete either Story mode Furbottom's Feature to unlock this week's featured Prisoner. If the Solo Feature is too hard, try Co-Op and vice versa! You can even recomplete current Feature's you have already played!
And if you're not feeling No Pants Day, well, you know our motto: buckle your pants!