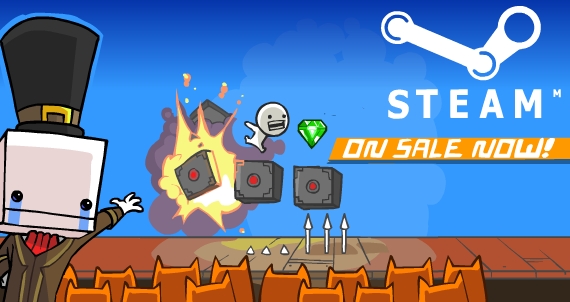 SteamOS is bringing BattleBlock Theater to your living room! What is SteamOS, you ask?

SteamOS Beta is an early, first-look public release of Steam's Linux-based operating system. The base system draws from Debian 7, code named Debian Wheezy. Steam's work builds on top of the solid Debian core and optimizes it for a living room experience. Most of all, it is an open Linux platform that leaves you in full control. You can take charge of your system and install new software or content as you want.

So take charge of that system and install BattleBlock Theater this week, because we're part of the SteamOS Sale! Get our blocks and puzzles for solo play or couch co-op at 66% OFF until March 9, 10AM PST! You can also go online to play the story, arenas or community made playlists. If you're feeling really fancy, mayhaps you create one of those playlists and share it with the community?

Learn more about SteamOS HERE and get BattleBlock Theater Steam. Our Steam game is available on Windows, Linux, and now SteamOS!