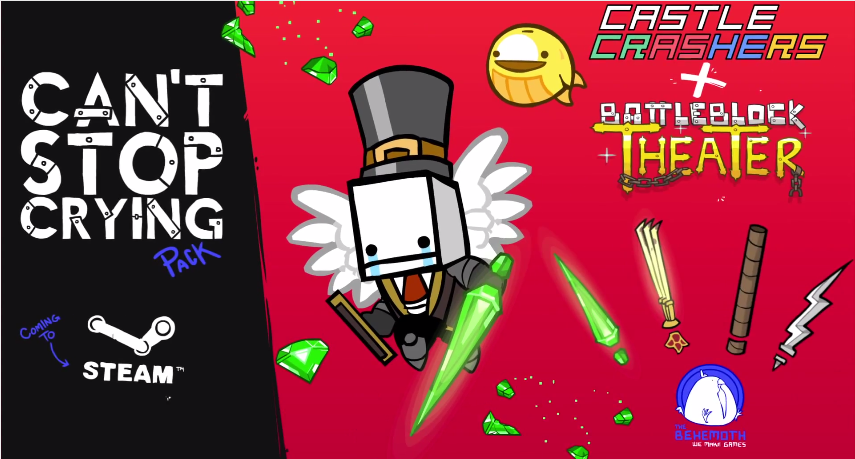 May 15th is the launch of BattleBlock Theater on Steam! In celebration of bringing the game to PC, we're unlocking Hatty in Castle Crashers Steam. Learn more about how this could affect you and your children.
So here's the break down of what's available starting May 15th:

–Can't Stop Crying Pack: If you own both Castle Crashers and BattleBlock Theater, you'll be unlocking the Castle Crashers knight in BattleBlock Theater Steam and in Castle Crashers Steam you'll get Hatty, the Golden Whale orb, and Gem Sword.
–Can't Stop Laughing Bundle: Don't own either game yet? You'll be able to purchase Castle Crashers Steam and BattleBlock Theater on Steam as a bundle for a discounted price. Then you'll automatically unlock the Can't Stop Crying Pack! Cry and laugh on the same day.
–Ultra Baby's Co-op Chaos Pack: If you only want to get BattleBlock Theater Steam and you want to play with a friend, then this 2-pack gives you a discount for two copies!
–Behemoth Loyalty Discount:If you already own Castle Crashers Steam, then we'd like to say THANK YOU. There will be a loyalty discount given to those who previously purchased Castle Crashers and just want one copy of BattleBlock Theater.
–10% Launch Week Discount: Finally, if you only want BattleBlock Theater ala carte, then you'll be able to get our game at 10% off the base price of $14.99 USD for the first week after release!
#BuckleYourPants people because BattleBlock Theater Steam releases tomorrow!