Did you know it was DNA Day? What am I saying; of course you did! And I'm sure you also know that the best thing about DNA is that it will someday allow us to bring back the dinosaurs, for which they will be eternally grateful. 10 ton reptile hugs for everyone!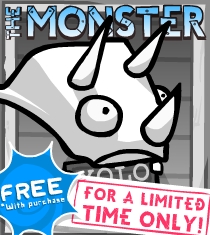 Here at the Behemoth, we are celebrating by bringing back our own monstrous dinosaur, "The Monster." How do you acquire this friend from the Jurassic era? Why, by playing this week's Furbottom's Features in BattleBlock Theater! This week, we're not only bringing back The Monster, we're bringing back one of our "Greatest Hits" courtesy of community member, LikingB4g3L5.
We were checking out our back-catalog of Features, and we realized a wonderful thing: the "great stuff" in the Community Theater out-numbers our stuff in the Story & Arena by 2 and a half to 1. Yep, we've featured somewhere in the neighborhood of 900 user-made levels, and just in case some of you missed a few gems here and there, we'd like to share some of these Greatest Hits with you.
First up? One of our earliest featured Solo Playlists:
Adventury Fun by LikingB4g3L5!