Update: The Duck Shark prisoner is now up! Load up that BattleBlock Theater to get your new special friend.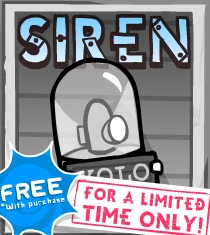 We're coming out with two more BattleBlock Theater prisoners! First, for the next two weeks, you'll be able to release the Flashing Siren Light, or Siren for short. All you need to do is beat the updated Furbottom's Features solo or co-op playlist to the end and Siren will be freed! And the most awesome sauce thing about this prisoner is that it is animated so you'll be able to see it flash everyone.
Then on Wednesday, July 17th, we're releasing a very special prisoner on the unofficial first night of San Diego Comic Con known as Preview Night.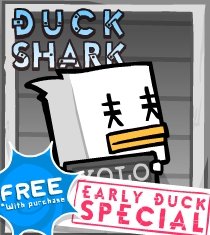 You've probably been well acquainted with this little one already. We present to you: Duck Shark!
Get the Duck Shark quick! You know how the expression goes…the early duck catches the prisoner. Or is it the prisoner is the early duck?
Anyway…this also means you've still got a chance to get the Sausage prisoner from 4th of July if you didn't do it already. Last weekend to do it!
Happy Friday, y'all!