This weekend, we'll be in Texas for the Rooster Teeth Expo (RTX) 2013! You'll be able to chat with the developers of BattleBlock Theater (BBT), play the game for free on our custom-built arcade cabinets, enter a raffle for a chance to win a BBT Cat Guard toy or Behemoth Chicken plush and have the opportunity to buy some awesome merchandise from BBT and Castle Crashers.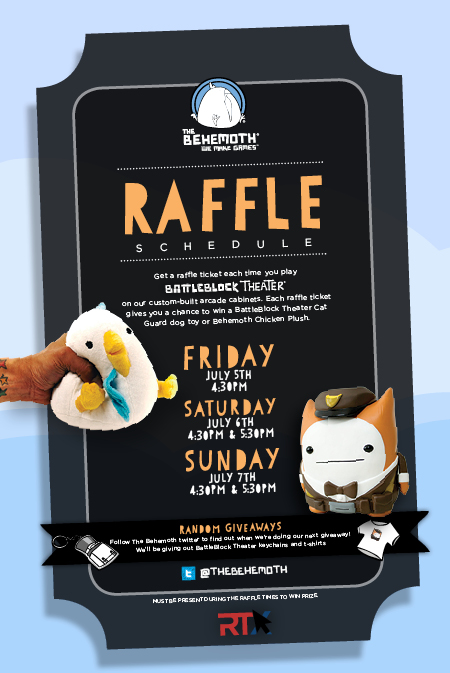 Daily Raffle
You'll get a raffle ticket for every time you play BBT at our RTX booth. Be sure to return during the scheduled raffle times because you'll need to be present to win. We empty out the tickets of the day after the final raffle of that day so be sure to get another raffle ticket the next day. We just want to ensure that the winners will be present and make it fair for the one-day pass-holders.
Random Giveaways
We'll also have random giveaways throughout the weekend. To learn more about how to win some free t-shirts and keychains, follow us on Twitter @TheBehemoth.
Behemoth Merchandise
Finally, for those who have been waiting to hear about the merchandise we're selling, we're bringing a limited number of t-shirts and other goodies. Here's the list:
-BattleBlock Theater Boat T-shirt
-BattleBlock Theater Cat guard T-shirt
-BattleBlock Theater Cat Guard Piggy Bank
-Castle Crashers Troll T-shirt
-Castle Crashers Knight Figurines
All of the items for sale will be $20. Includes tax already! Easy peasy.
Join us for our first year at the Rooster Teeth Expo at Booth #533!