Today, we salute all those who have helped birth a child, or manbirthed anything they've viewed as their child. If you believe you are a father, then happy Papa Day to you! If there's any reason you may be a father of some kind, we salute you.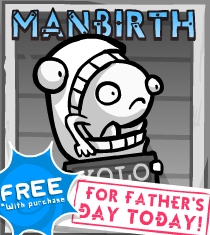 And to show you our appreciation as children of the world, we are giving all fathers (or anyone who has the full version of BattleBlock Theater because we don't discriminate, yo), a new prisoner unlock for today and the rest of the week. Our gift to you: Manbirth.
All you have to do is sign in to your Xbox LIVE account, load up the full version of BattleBlock Theater and BOOM SHAKALAKA you have Manbirth.
Note: If Manbirth does not pop up immediately, try going to Furbottoms Features to trigger the unlock. You won't need to complete the Furbottoms Features to get this prisoner.
Happy Father's Day!