The day has come. Rise of the island of the cats. And on this island you will now find a new form of primate has been unleashed into the theater world to perform deadly acts on stage.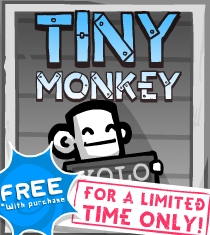 The Tiny Monkey.
It'll blow your mind. 
The body of a normal-sized hominid but the head of a tiny monkey creature, you won't want to miss your chance at unlocking this new prisoner as one of your friends in BattleBlock Theater. All you have to do is complete either the solo or co-op playlist in Furbottoms Features!
For the next two weeks, go solo in WaffleLand or grab a friend and do co-op in The Adventure.
Hurry! The Tiny Monkey will only be around until the next Furbottoms Features goes up on BBT!