In addition to the super rad animated Lava Lamp prisoner unlock you can get this week when you complete Furbottom's Features in BattleBlock Theater, today is National Donut Day in America and we're giving you free Donuts for a week!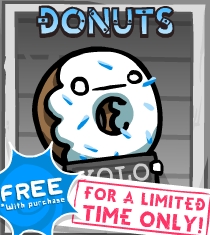 We're bringing back our special prisoner, Donuts, for anyone who didn't catch it the first time it was available as a Furbottom Features unlock. All you have to do is  sign in to your Xbox LIVE account, open up the full version of BattleBlock Theater and watch as this special prisoner pops out of the vault. Donuts will be available from June 7th, noon PDT, until June 13th.
Note: not all of the special prisoner unlocks will be this easy to get! So get it before it's gone!
More notes: Our Arena Features gets updated today as well! So be sure to download and have fun in the "Race For The Kiss."