Yesterday, we had our first live stream of Design with the Devs, where our level design team discussed three candidates for the co-op Furbottom's Features. Today, we reveal the chosen one for solo and co-op! *Drum roll*
Solo Furbottom's Feature: Welcome Home
Co-Op Furbottom's Feature: Can't Compare Love
You can find the detailed descriptions of each playlist when you go to the Furbottom's Features section of the official BattleBlock Theater website.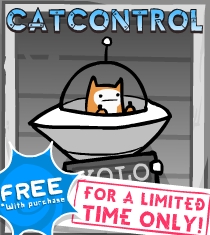 And as always, the new solo and co-op Furbottom's Features bring a new prisoner unlock when you complete either of the two playlists!
For the next two weeks, you'll be able to get Cat Control, a mini-cat controlling the body of your prisoner. How freaky is that?
If you're interested in learning more about how to design playlists using the BattleBlock Theater level editor, join the discussion in our forums HERE.