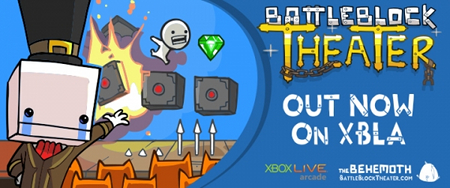 If you haven't done so already, be sure to download the update for BattleBlock Theater on Xbox LIVE. We've updated a couple areas in the game.
1. The Jail Breaker achievement and any player who has unlocked 50 prisoners or more will now be able to successfully unlock this achievement as well.

Jail Breaker
Free 50 prisoners in the Gift Shop.
If your profile has 50 or more Prisoners already, after the update is applied, the achievement will unlock on their next Prisoner PURCHASE from the gift shop.
NOTE: If you already have 100% of Prisoners unlocked, you will need to trade away any single Prisoner and re-purchase it from the Chonku machines in the gift shop. (We suggest you do not trade away a star special prisoner because those can't be bought!)
2. Side netting in Ball Game is no longer viable.
If you don't know what that means then don't worry about it! We got you covered.
The game was updated earlier today on May 15, 2013.