PAX East begins tomorrow!
If you are in the Boston area, come by and check out our sweet BattleBlock Theater Co-op multiplayer cabinets, the 4-player uber cabinet with Castle Crashers, and say hi to the guys! We'll also have tons of good ol schwag including the brand new Pink Knight Figurines, our exclusive PAXeast tee, and a huge array of charms, squishy chickens, keychains, skatedecks, hats, hoodies and more! We're at booth #550, but just look for the giant Behemoth beacon!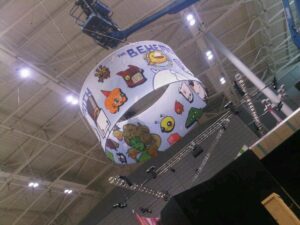 Hit the jump for a bunch of pictures of the booth being created!
good luck, team Boston!