Hello everyone!  This is Sumi, here to report that all members of both Team Boston and Team Tokyo have returned home safe and sound!
Tokyo Anime Fair was a huge success.   The whole weekend was filled with meeting great people, occasional business meetings and interviews, and tons of convenience store runs.    What was really great was how the team as a whole (Boston, Tokyo and California) worked together through the small technical issues we had with the aid of the internet, despite Tokyo being 16 hours ahead of California and 13 hours ahead of Boston.  SO GREAT.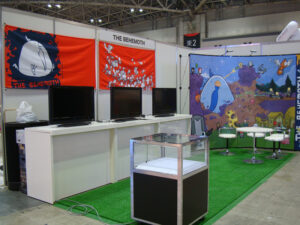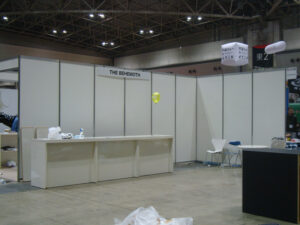 When the fair's closing chime rang we were excited to have made it to the very end in one piece, but our work certainly didn't end there.  We broke down the booth and from then on we had roughly two and a half days left in Japan land.  While we would have loved to kick back and relax centaur-style, we had meetings up until the very last day, and even while we were sight-seeing, we were constantly talking about plans for the future and researching.  The Behemoth never sleeps but that's the way we like it!
Hit the jump to read more about the wrap-up of our Japan adventure, see more pictures, and also read a cool story about a PSP we messed up on accident.
After the fair, we had various meetings and such with people who were kind enough to show us Japan from a local's point of view.  We went to Shibuya, Nakano, and Shinjuku, where we visited awesome designer toy shops, shops that specialize in vinyl toys (one of my personal favorites), a restaurant with an art gallery and live demonstrations.  We were also invited to visit the Studio Ghibli Museum in Mitaka (which normally has a three month wait list, or so I've heard)!  This was all done in ONE day.  Whew!
The last day of our Japan trip was spent packing up, but that didn't stop us from squeezing as much as we could into our schedule.  John and JP woke up early and went to a sushi restaurant for one last sushi adventure.  While they were there, a fan of the game had overheard who they were, and asked them to sign his PSP!  While they were happy to do so, we learned an important lesson:  It is REALLY hard to sign a PSP.  The pen used to sign it was pretty difficult to manage, and the PSP itself is covered with some kind of magic substance that resists even permanent ink, so it's safe to say that we messed up a little.
We couldn't mess up a great PSP from a great person and not fix it!  John asked the boy for his address before leaving, went to the store, and bought the exact same PSP model and color to replace the old one.  Since we had more time, we were able to take our time in signing it.  We also included a small note and a keychain for the boy's brother.  We sent the package before our departure, and hope that they enjoy the new PSP.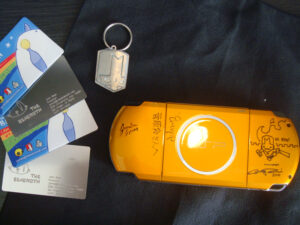 When we returned home, we went BACK IN TIME.  I got to experience two sunrises on the same day.   WHOA.
Now that we have successfully traveled through time, I feel like we can do ANYTHING, but for now, we will be getting back to our normal work schedules.  Despite jetlag and fatigue, Dan and John went into the office right after their return and went back to work.  Like I stated earlier:  The Behemoth never sleeps!
Tokyo was AWESOME.  The trip was filled with wonderous sights and experiences.  Thanks again to all of you: Not only to those of you who came by and visited us at both Tokyo Anime Fair and PAX East (it's ALWAYS  a pleasure to meet and talk with you guys!),  but also to those of you who couldn't make it to either tradeshow but still extended your support and visited us in spirit.  We love all of you!
Love and Basketball,
Sumi
Time Traveler Extraordinaire