皆さんこんにちは! 与儀須美で~す。
Hi guys!  This is Sumi, translator for The Behemoth reporting in on behalf of Team Tokyo!  We saw Team Boston's post with all their pictures, and couldn't resist making a post of our own, so I'm here to stealth post while everyone's still hard at work here at Tokyo Anime Fair!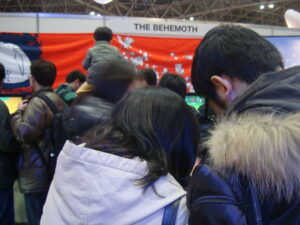 It is the final day of Tokyo Anime Fair (whew, what a weekend!) but events are still in full swing even with only a couple of hours remaining.  Hit the jump for more information, tons of pictures, and Tokyo GREATNESS.
As I sit here and type this, people are trying out our PS3 Castle Crashers game, and BattleBlock Theater on the Xbox 360.  One thing I have to say is that the fair has been AMAZING.  People flood our humble booth with their love, praise, and support.  What beats that?  NOTHING, that's what!  A bunch of people new to The Behemoth as well as revisiting fans came by.  A guy came in with his copy of Alien Hominid for Game Cube, and another guy came in with a 360 that he had asked us to sign last year at Tokyo Game Show!  How great!
While Hatty's off in Boston adventuring with Emil, Tierney, and Ian, Golden Whale is joining us in our Tokyo excursion.  We managed to snap some pictures of his adventure as well!
Thanks to everyone who has stopped by to say hi to us!  Tradeshows are tiring but totally worth it when we get to see and talk with you guys!
It's time to get back to work!  We've got two more hours before TAF comes to a close.
どうもありがとう!Thanks!
Love and Centaurs,
Sumi