Hey hey, its our birthday! Castle Crashers is 1 year old today!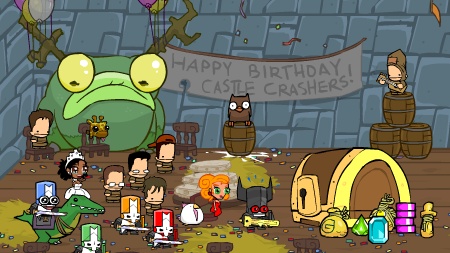 The little tyke has learned to crawl, walk, and stab barbarian hordes in the face with a chainsaw. aint it cute?  We want to thank everyone for playing Castle Crashers, and we've noticed you've rated  it the highest rated game on XBLA!  This is a wonderful gift on our birthday. We love presents! would you like some? I thought so…
We are are having a party and you're invited! Where is this party? Why, everywhere! Here are our birthday party activities for you to enjoy:
Dev Blog:
"Do you like my party hat? Yes, i like your party hat."
Make a Castle Crasher-y party hat to wear to our birthday party. You can do this with a regular piece of paper and a staple- like this:
..or make some other sort of party hat. Send us a picture of you wearing it to games[at]thebehemoth[dot]com. (important: sending a picture gives us permission post this picture on teh internets, like here on the blog..) The first 20 or so to do so will get a present of an actual behemoth hat from us. We'll send some hats to some of our favorites from later submissions as well. AND our very favoritist most festive party hat-maker will win their very own super rare hand painted Pink Knight figurine!!
XBLA:
"Its an Arena Party!"
Play with The Behemoth. Today from 1-3pm (PST) we'll be online playing as many "player match" Arena matches as we can. look for gamertag "TheBehem0th". (our friend list is full, so don't be sad if we don't add you!). Use your head set and talk trash while we play!
Forums:
"Fashionably Late to the Party. "
Welcome to the party! Here is some cake. It is not a lie.  Want to join in the fun? Don't have Castle Crashers? Have a friend you'd love to attack things with? Post in this thread on the forums, why you would like this gift. OR about who you would like to make a present of the game to. First 100 reasonable requests will get a full Castle Crashers game code.
Twitter/facebook:
"Party favors!"
As soon as we get them (today? tomorrow? next week?), we will be giving out a couple thousand copies of the Necromantic dlc. We love you! We also love a good race.  So we're going to try some new ways of distributing them. At least once a day, at random times, we will post Necromantic dlc codes on Twitter. (4 at a time, due to that pesky character limit). First come, first served! This will probably go on for a few weeks, until we run out. so Follow Us, and claim yours!
We'll also post a bunch on the facebook groups "Castle Crashers" and "The Behemoth". This will start after PAX, probably around the second week of September. Or maybe sooner!

Presents for us?
Don't tell him i told you, but its Mr. Dan Paladin's birthday in a few
Weeks (Sept 14th). He mentioned how much he loves fan art, so maybe you could send him some for his birthday? You could mail actual physical art to:
Dan's Birthday- The Behemoth
1010 University Ave. #1880
San Diego, CA, 92103
or email us digital art at games [at] TheBehemoth [Dawt] com.
thanks again for the birthday wishes, and big birthday hugs to all!
love,
kelly
ps. We are experiancing our highest traffic ever here and on the forums- should this break the internet, do not despair, several of these fun things will go on for weeks, just check back for updates!