A few times a week after work I've been going over to my friend Alan's shop to work on the bronze trophies for Castle Crashers. Things have been going realy well since we quit burning out the plastic figurines and moved to wax models. (More about this huge improvement next week)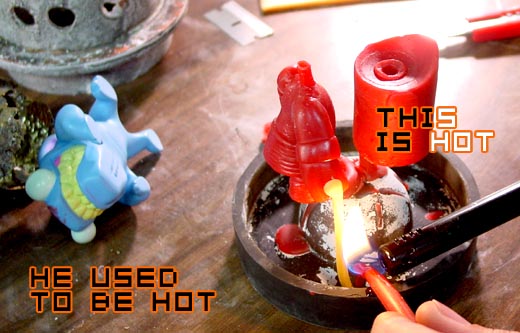 BUT….every night that I'm working on this stuff I keep thinking…wow, although we pioneered giving trophies out for top Alien Hominid HD leaderboards, those trophies were only "genuinely simulated gold". (Read, metal electroplated plastic.) The trophies are really cool…but nothing beats a real bronze statue now that we have started playing around with them. So…while we are all patiently waiting for the final CC bugs to be crushed and cert to begin, we thought it'd be a good idea to resurrect the Alien Hominid HD Trophy competitions!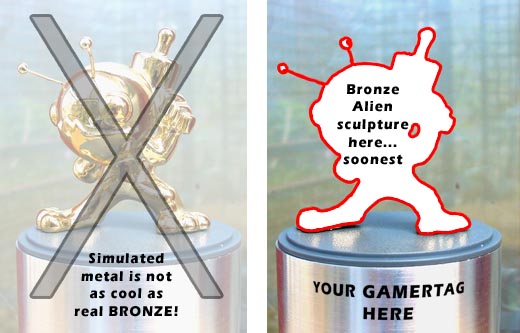 Here are the details-
Real bronze Alien Hominid trophy with your Gamertag engraved on it. There are only going to a few made. You can't buy these anywhere, you can't win them anywhere else. First place winners in all catagories will receive the Alien trophy.
We will ONLY be sending out these new trophies for the following Alien Hominid HD leaderboards for July and August (use the rest of June to get warmed up):
Alien Hominid Leaderboard Weekly. Player Match, MEDIUM difficulty (this is a change from the old competition)
PDA Games Leaderboard Monthly, Player Match
Super Soviet Missile Master Monthly, Player Match (Yes! Finally!)
In addition, all winners will receive BOTH a set of figurines and a signed copy of Alien Hominid for the GBA. (Yes, it is true, once upon a time, AH was made for the GBA! It was never released in the US, it was Euro only. But it runs on any GBA and for a GBA game it is a really amazing game. As far as we know, this is a collectors item as it is no longer being manufactured.)
For more information check the www.alienhominid.com/leaderboards website
-john
p.s. Back in the day, if you never received your AH trophy if you won one and your gamertag is listed on our website, please ping us again. We want to move them out of the office get them to you. : )
UPDATE: So in competitions will be Ranked Match, not Player Match. SSMM will be high score (furthest distance) b/c there is no player match 🙂 See the Alien Hominid website after July 1 for the full details. Competitions begins July 1. Don't get too hung up on the release date. Everyone here and at MS are working everyday (and most nights) to get the game out. The game should be released simultaneously in Korea, Japan, Taiwan, Hong Kong, Singapore, as well as  Australia, NZ, North America and Europe. We'll see if we should expect anything out of the ordinary and thanks for the heads up.
Finally, when released, Castle will only be on Xbox 360 LIVE arcade for now. You can't get it in stores!!! So easy!