Update: Play with the Devs – Episode 9 Recap HERE.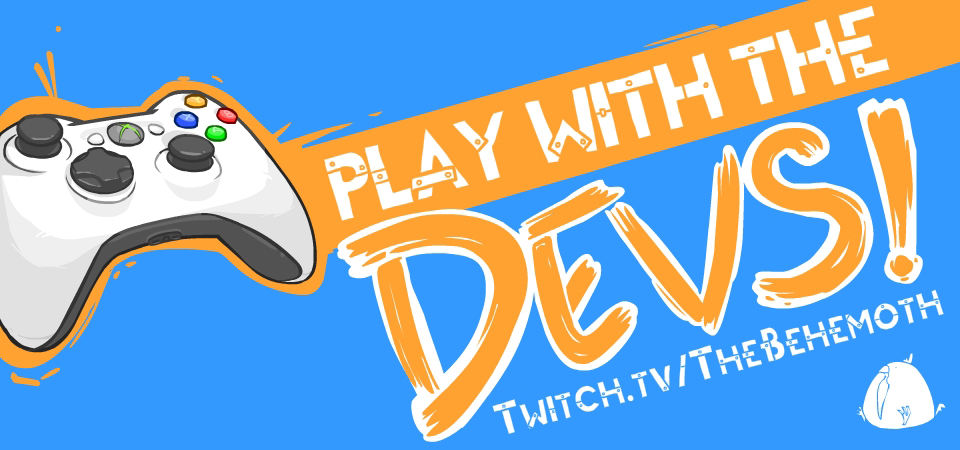 The holiday season has started, which means the year is coming to an end. We've had a lot of fun with the live streams on Twitch TV this year, and we're going to wrap up with two more streams in December.

Next week, our live stream on Twitch TV will be our last Play with the Devs for 2013. Contrary to popular belief, it isn't only the nice children that will be receiving gifts for the holidays! We're going to see who is the naughtiest player and give those people a chance to get a Behemoth prize. On December 4th from 4PM-5:30PM PST, you and another community player may be called upon to play against The Behemoth team in either Muckle or Grab the Gold arena modes in BattleBlock Theater. The team with the highest points in that specific mode will be given a special prize: The Behemoth Chicken Charm + Cardinal Charm. Some happy birds to make your holidays happy.




So now the question is, are you naughty or nice? Do you have it in you to set a frog bomb on us or steal gold from us?

You must be in the chatrooms on our Twitch channel on December 4th from 4-5:30PM PST in order to qualify to Play with the Devs.

Also, we will be giving chatroom people a chance to get a free Gestureworks Gameplay code! The most unique questions will be selected and given this new software for their Windows 8 tablet. You'll be able to play PC games like Castle Crashers on your tablet when you download using the free code.
Our live stream on December 18th, originally scheduled as a Play with the Devs episode, will be focusing on our Voyeur Feed.