Well it's finally just a week away…PAX 2013! There will be a lot of new things at our booth (Booth #3003 and #3004) so be sure to keep up with our PAX News.
Since today is Furbottom's Friday, we are releasing a new prisoner. What better way to get ready for PAX Prime than to BUCKLE YOUR PANTS!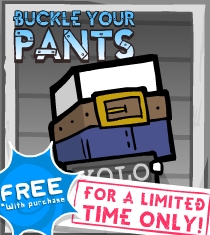 This new prisoner is unlocked when you finish either the solo playlist or co-op playlist in Furbottom's Features (which is in the full version of BattleBlock Theater). It will be available for two weeks until the new Furbottom's Features goes up! This week's selected user created playlists are:
Solo Feature: Go by minecraftmania4
Coop Feature: TeamPower by oOoLeadyoOo
Good luck completing all the levels! See you all soon at PAX Prime!