Happy 4th of July! Whether you're backyard grilling or waiting in a long line for Texan barbecue like we are, in any case there's always room for more food in your belly!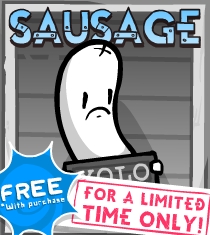 So to celebrate the 4th of July we're giving you a new special prisoner unlock to commemorate this BBQ-centric American holiday. We present to you: Sausage!
And the best thing ever is that it's made of whatever your heart desires. If you're not into the mystery meat, then it's a succulent 100% all beef frank. Or maybe it's a German bratwurst. Perhaps it's a vegan hot dog. The possibilities are endless in your mind!
So get it while supplies last and before it expires next week!
All you have to do is sign in to Xbox LIVE, load up the full version of BattleBlock Theater and head over to Furbottom's Features to unlock the prisoner (shouldn't need to play the full playlist for it to unlock).