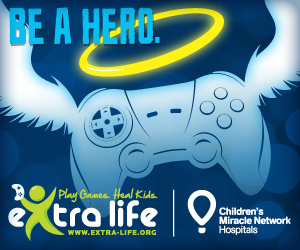 If you know what this is, props to you. If you don't, I'll still give you props because I'll tell you about it.
Extra Life is an annual event created by Sarcastic Gamer to fundraise money to Children's Miracle Network Hospitals all over the nation. People pledge to play video games for a certain number of hours, and seek sponsors to honor their pledge by donating to the cause.
This year, it will be on Saturday, October 15, 2011. If we raise at least $500 (before Saturday), we'll have one of our own employees play for 24 hours straight and put a Live Stream up on this blog. If we don't reach that goal, we'll play for 2 hours to honor those who have donated (Thanks to those who have already!). We're raising money to support the kids at Rady Children's Hospital of San Diego (Facebook | Twitter)!
Please support us by donating to any member of Team Behemoth HERE!!
Kids: Ask your parents if they can donate!
Remember, all donations are tax-deductible, and 100% goes to help children in need. Every bit helps. You can even just link to this post from your Facebook or Twitters to get the word out and that would make us proud ^_____^
<3Your favorite Pink Knight,
Christine