So you may have heard.. since January 20th we've been raising money for Haiti relief efforts by donating 200% of proceeds from ALL downloadable content (DLC) sales for Castle Crashers or Alien Hominid.  We've just received some numbers regarding the donation that we would like to share with you!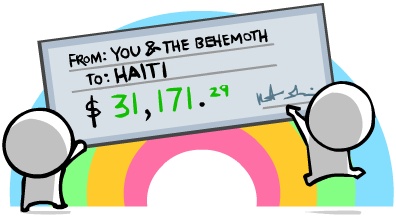 Between Jan 20-24th through your DLC purchases — you raised $15,585.65!!!  We are matching that, for a donation of $31,171.29!!! This is truly amazing. You amaze us.
Let's amaze each other. With your help, we can get to a total donation of at least $50,000. We already announced continuing the fundraiser through today – but we'll keep this going as long as it takes to reach 50K for Haiti Relief. Come on world!  Let's do this.
For reference, here is all our DLC available:
Alien Hominid HD DLC available:
Alien Hominid HD – Challenge Pack (150 Microsoft Points)
Alien Hominid HD – PDA Classic Pack 1 (150 Microsoft Points)
Alien Hominid HD – PDA Classic Pack 2 (150 Microsoft Points)
Alien Hominid HD – PDA Euro Pack (150 Microsoft Points)
Alien Hominid HD – PDA Hot New Levels (150 Microsoft Point)
also Picture Packs (100 Microsoft Points)
Castle Crashers DLC available:
Castle Crashers – Necromantic Pack (160 Microsoft Points)
Castle Crashers – King Pack (160 Microsoft Points)
also Picture Packs (80 to 100 Microsoft Points)
and Premium Theme pack (250 Microsoft Points)
-the behemoth