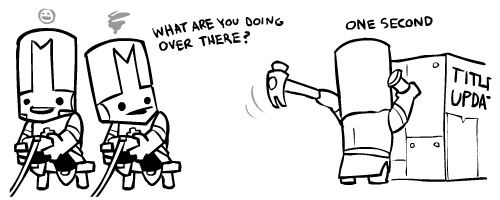 We just got off the phone with Microsoft and we had a great talk about updating Castle Crashers, YES!! Looks like we're on our way to getting this title update out and the bigger issues like saving and online connectivity resolved, in addition to other bugs that have been reported. A suggestion for those that might be having some online problems with Quick Match or Custom Match is to possibly try hosting a match instead. Also we've been informed that there are some suggestions out there about how to help recover your lost saved data. Again, we're working on resolving these issues for the update but these might help you in the meantime.
We don't have a specific time frame yet but we have been working on all known issues as soon as they appeared. Our team has gone without rum and biscuits since we became aware of the issues and will continue to deprive our programming team of both sleep and contact with family and friends (they don't really have friends).
I want to take a second and thank everyone who sent in their emails, forum posts, threat letters, etc over the past few days. We've read through everything and have been responding to as many issues as we can. We're directing most of our attention to actually fixing the problems so please be patient if you don't hear an immediate response. Yay for communication!
If you have anything to report to us please keep emailing them to games[at]thebehemoth[dot]com and for the love of all that is good in this world put a relevant subject line like "Castle Crashers Bug Blah Blah Blah" but not, "OMFGFTWROFLCOPTER"
Thanks we love you all in that kind of way that's not weird and uncomfortable.
Your BFF,
-Emil-