May I offer you a byte-sized piece of Invasion?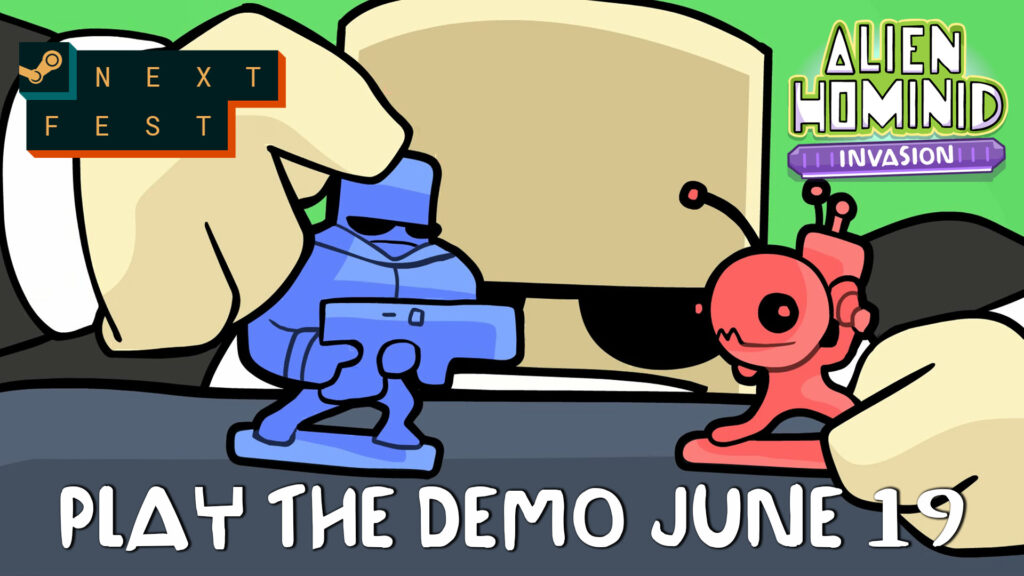 Earthlings, I have exciting news from the Mothership – an Alien Hominid Invasion demo will be available during the Steam Next Fest from June 19-26!
We know you've been patiently (and excitedly) waiting for the Invasion, so we thought this could be a great opportunity to let you experience some Alien gameplay before the game's release later this year.
Friendly, Normal, INSANE, whichever difficulty you prefer, we've got it! Even better, the demo has online and local 2-player co-op functionality, and both players can choose their desired insanity difficulty. So grab an alien pal (or human pal if you really have to), choose INSANE difficulty while your fellow invader picks Friendly or Normal, carry them through waves of enemy Agents and deadly (but kind of cute?) hazards, AND PROFIT.
Really though, pick whichever difficulty suits you. I can't even dodge the enemy, so Friendly it is.
Throughout the event, we'll be streaming on Steam (steaming?), hanging out in Discord, and hosting a couple of competitions you can enter to win some Alien merch. More details on that will be in a post to follow!
As always, we're stoked for you to get your hands on the demo and hear your thoughts. If you have any questions or feedback throughout the event, you can reach us at games@thebehemoth.com or here on Discord. We hope you enjoy your byte-sized piece of the Invasion!