It was such good fun last year that we decided to host our 2nd annual Behemoth Costume and Pumpkin Carving contest!!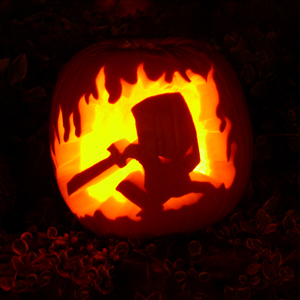 Just post a photo of your Game #3, Castle Crashers, Alien Hominid, PDA Games, or Dad 'N Me or other Behemothy creation in our forums in the special stickied thread. On November 1st this thread will be locked, so get your entries in by then! We will review the entries and on November 6th select the top three winners in each category : Costumes, and Pumpkins. Judging will be based on originality, hilariousness and craftsmanship. Prizes include our limited edition Game 3 shirts, NinjaPirate shirts and other neat stuff we have lying around the office. We look forward to seeing what you creative folks come up with!
– group entries are allowed!

– if you won last year, you can't win again with the same costume.

– you can enter once for each category (costumes or pumpkins)
– need ideas? check out all the great entries from last year!
– have fun!

kelly