We're pretty lucky that we're just miles away from the convention center in downtown San Diego, especially since Comic Con will be held there in just a few days. So how much stuff does it take to run a booth you ask? 8 individual palettes that roughly weigh about 7,000 lbs combined. Not bad considering 9 nears ago we had one 6 foot table, and a poster.  Be sure to come see our latest updates in gameplay for BattleBlock Theater and meet some of the development crew. The Behemoth can be found in the Exhibit Hall in booth 4219.
Meet our Co-Founders
Going to Comic-Con? Dan Paladin, Co-Founder of The Behemoth & Art Director for
 Alien Hominid
 and 
Castle Crashers
, will be at The Behemoth booth to do signings on official Behemoth merchandise. He and Co-Founder Tom Fulp (a.k.a. Founder of
newgrounds.com
), will be doing the autographs between 1-3PM on July 13, 14 and 15 in the San Diego Convention Center. Come say hello to them and to our Behemoth team at booth 4219.
Exclusive Merchandise at Comic-Con
Anyone visiting us at Comic Con can also look forward to our usual merchandise, including figurines, skateboard decks, posters, keychains, long stares into your eyes, and walks on the beach. (Oh man, we said this same thing for PAX East but it seems so much more appropriate now that its going to be near the beaches of San Diego!) Our chonku-chonku dispensing machines will be making their Comic-Con debut this year, as well as scarves (it gets chilly on the west coast, too!), and t-shirt designs that are still currently trade-show only.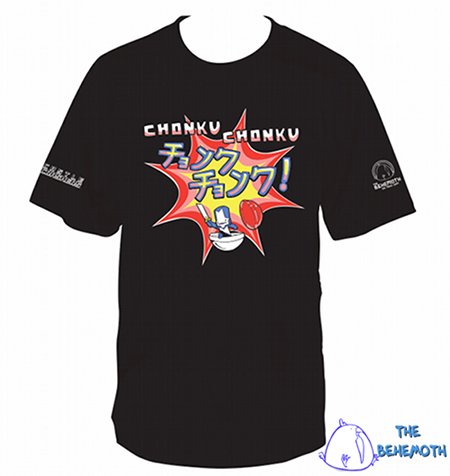 Contests and Giveaways
Twitter photo challenge! (July 12-15)
Enter your photo of The Behemoth booth at Comic Con to win some Behemoth gear or codes. Follow us on Twitter, tweet @thebehemoth with a picture of our booth or a Behemoth staff member, and you'll be automatically entered to win some stuff. One picture per person per day before 4:30PM PST. Five awesome photos will be selected. If you're selected, you'll be notified via Direct Message on Twitter. Winner must be able to pick up their prize at the end of the night before the exhibitor hall closes.