San Diego Comic Con 2017
July 19, 2017

-

July 23, 2017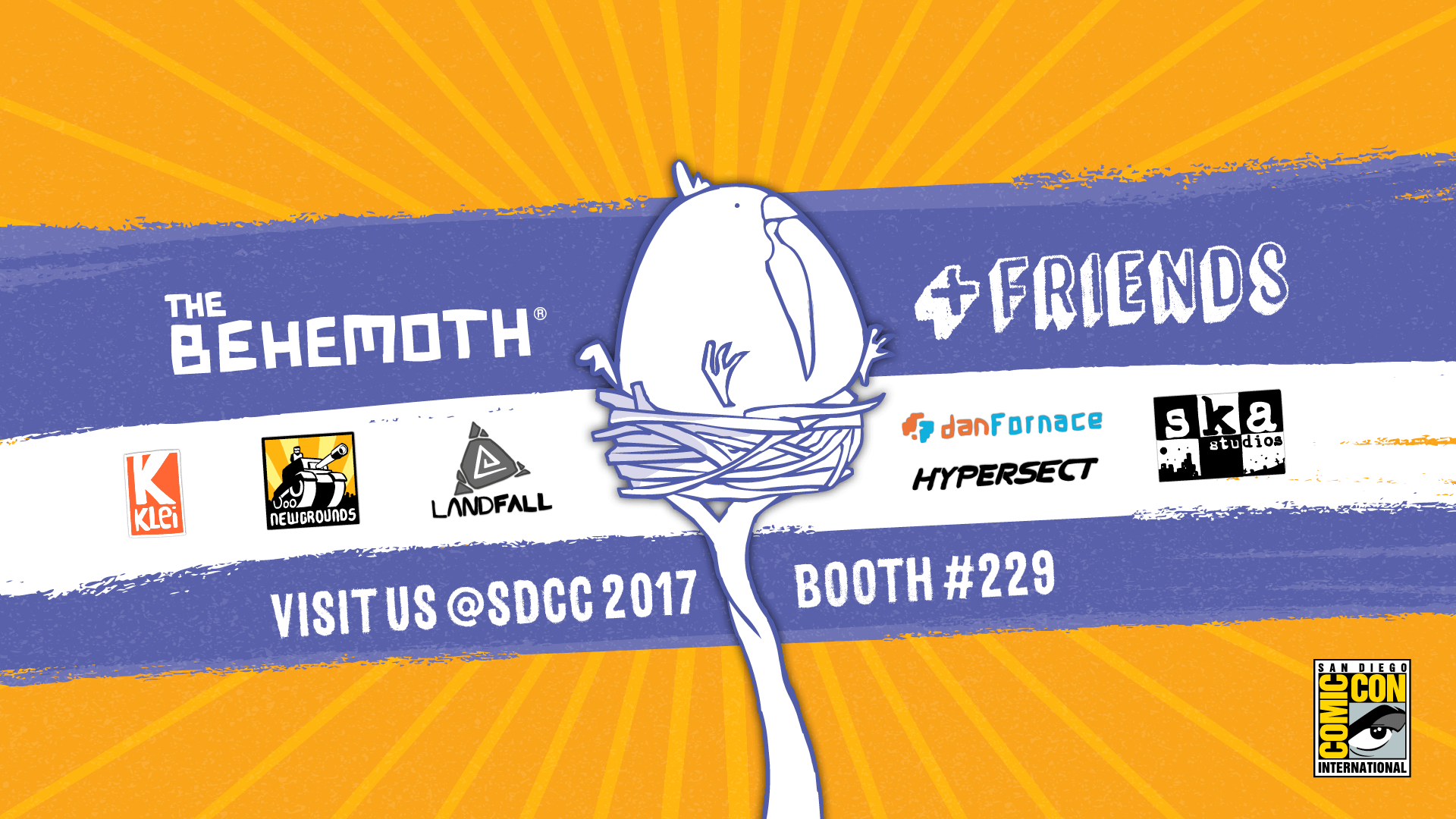 We'll be at the San Diego Comic Con (SDCC) starting Preview Night, July 19. Find us at Booth 229!

There was a time…
Way back in the summer of 2003, when we decided we should set up a table in a 10 x 10 booth at Comic Con and see if we could get some traction for our new, unfinished game called Alien Hominid…
Fast forward to 2017 and a gazillion expos and tradeshows later and we find ourselves at our 15th consecutive Comic Con. Just like a 15-year-old kid, we are twitchy to try something new and exciting at the show.
So this is what we are going to do: This year you'll be able to find us again in Hall A at Booth 229 as always but this time with some other familiar faces from the gaming world. We've invited some of our good friends to join us and we hope you come visit us at the Behemoth + Friends booth!
Nightmare Cops – Newgrounds
Oxygen Not Included – Klei
Salt & Sanctuary – Ska Studios
Totally Accurate Battle Simulator – Landfall Games
Rivals of Aether – Dan Fornace
Inversus – Hypersect
We didn't make any of these games but we love all of them and you will too! Check out their rad game trailers…because they are rad!
Of course, this extravaganza wouldn't be a true thing if there weren't some cool folks from each studio on hand so if you come by the booth, you'll be able to meet the creators of these rad games! Talk to them, see their lips move, try to discover which is an AI! Or maybe it is one of us Behemoths…we'll never tell.
In addition to shipping themselves over to San Diego, some of guest devs will also be shipping over t-shirts that we will be selling at the store in our booth! You won't be able to get these anywhere else (maybe?) so come by before we sell out of everything AGAIN! You can do it!
But wait! That's not all. In addition to our guest devs, we will have a whole slew of our very own Behemoth arcade cabs, including Pit People, BattleBlock Theater, Back Off Barbarian, and of course Super Soviet Missile Mastar. See you there!