Here ye, here ye. Today marks a joyous occasion: The birth of flash game Alien Hominid on Newgrounds.com. Fathered by Tom Fulp and Dan Paladin, Alien Hominid was the game that brought The Behemoth together.
After the game came to FRUITION on August 7, 2002, John Baez became the father of both Dan and Tom illegitimately.   You see, Dan packed his stuff up to go home after work and happened to be passing by John Baez's desk to hear the oh-so-familiar "pew pew!" sounds.  John said he wanted to create a console version of Alien Hominid and Dan was like "OH I worked on that, fellow co-worker!!!!!!".  SO, these three dudical dudes became the Owners Three when they formed The Behemoth in 2003.  I bet you can imagine how they must feel about the 10th Year Anniversary of Alien Hominid, the twinkle that started it all!
Fruition is a great word and all, but we shall have no fruitcake this time around. No fruitcake for you! Only ten-year-old cake that we will stuff our mouths with in celebration of this tremendous occasion.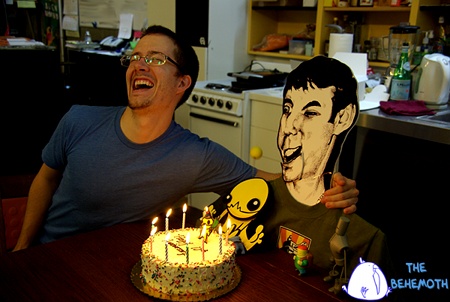 We wish Alien Hominid a happy birthday and hope you'll join us in the celebrations by playing the original online version here. It's still free and over 20 million people have already played it! Get in the game!
Also, if you have any yummy or fun photos of Alien Hominid, we'll be happy to add it to our Pinterest board (which may also end up in our fan art section one day!). Please send your Alien Hominid photos to games[at]thebehemoth[dot]com.