>>Check out This Page for more Tournament info!!<<
Since its debut in 2008, Castle Crashers has had a steady increase of fans and leaderboard numbers on XBLA. We're excited about our upcoming 3 million leaderboard milestone, which is why we've decided to bring back…


With all these  millions of people playing Castle Crashers… many have asked for another chance to show up other players and prove that they have the unparalleled skillz, the bestest combos, the most awesome attacks. Finally, we will yet again know:
Who is the best Castle Crashers
Arena Fighter in all the world?
If you joined us last year in our last tournament and were looking for another chance to win a GOLD XBOX–then look no further! The first prize of the 2012 Tournament of Champions includes a Golden Xbox 360! Envision the look on your friend's faces when you invite them over to play a game of Castle Crashers or Alien Hominid. It's like breaking out the good china at a dinner party. Get your party started with your new shiny gold Xbox! All joking aside we are very grateful for all of your support.
First place will also be getting an army of twenty-five squeezy chickens, one chonku-chonku mini-figurine in the Castle Crashers color of your choice, all nine Castle Crashers mobile phone charms, a warm beanie hat, Behemoth tee and the very new, ultra-cool Necromancer figurine! The Necromancer figurine will be signed by the development crew at The Behemoth.
2nd place will also have their very own signed Necromancer figurine,  the stylish Behemoth t-shirt, knit beanie hat, one Castle Crashers mobile phone charm of their choice, one  chonku-chonku mini-figurines in the Castle Crashers color of their choice and fifteen squeezy chickens for those fifteen days of much needed stress relief.
3rd place will own a set of four Castle Crashers chonku-chonku mini figurines (includes red, blue, green and orange), ten squeezy chickens, a Behemoth t-shirt, knit beanie hat and one Castle Crashers mobile phone charm of their choice.
Everyone in the top 50 of the tournament will win a prize, and the top 24 of the tournament will get a special bonus as well. Here's how its going to go down:
To be eligible for the tournament you have to be in the top 100 Weekly Ranked Arena players on the Castle Crashers leaderboards at noon (PST) on August 17, 2012. You will have all that week to battle amongst yourselves to claim those spots.  The top 100 will compete in 1 on 1 Arena matches, in a single elimination tournament format on Saturday August 25th, until we have a victor! You have less than 2 weeks to hone your skills before the tournament begins, so get to it!
Check out This Page for full rules and contest info!! Updates to be posted here on the development blog. 

Basic small print:
One entry per person. Players must be available to play online from 8:00am to 5:30pm (PST) on August 25th. Players under 18 years of age must have parental permission to participate. Level 256 and other cheaters will be disqualified!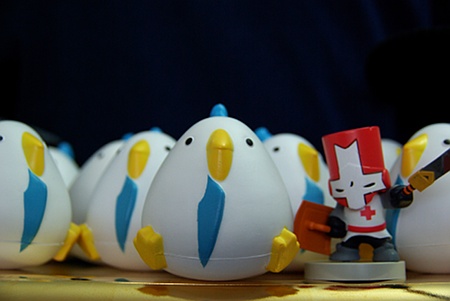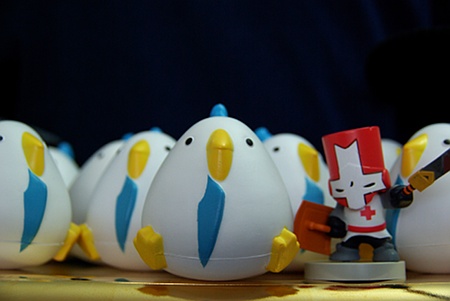 PlayStation Castle Crashers fans can relax until the Fall of 2012. Then they'll have to take out their armor and prepare for their own battles in the first ever PSN Castle Crashers Tournament of Champions. Details to be posted in early autumn and tournament will take place sometime in November.