Day 2 of our booth setup for PAX has been just as busy as the first, but things are coming together nicely. Of course, we didn't want to keep you out of the loop, so we snapped a bunch o' photos and shot another video for you to enjoy.
Let's start with the photos once again, in no particular order:
And now on to a video of some midnight madness from within our round sign before it was hoisted up and suspended from the convention center ceiling:
Hey, you should be impressed. All that took place after a 16-hour shift… most people can't even stay conscious for 16 hours, let alone work.
Speaking of not being able to stay awake for 16 hours… You know who else can't stay awake for 16 hours? Bears. Those guys can sleep forever in the winter. I think they call it hibernation.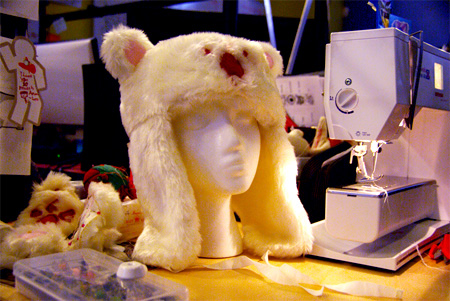 And speaking of bears (shameless segue), we wanted to remind you that we'll be selling a very special hat at PAX this year. Our extremely limited edition Ushanka Bear hat will be sold exclusively at PAX. Each hat is completely hand-made and numbered. The hats will sell for $60 and all proceeds will go to benefit the Wigs For Kids charity. Ushanka bears love giving kids hair, and so should you.
Starting tomorrow, come try out the latest build of Battleblock Theater and more at our PAX East 2012 booth #512!