With one game in submission (Castle Crashers for PSN), and another's development in full swing (BattleBlock Theater), we come to that joyous time of the year we like to call, "please kill us all" "Tradeshow Season." Here's what is in our lineup for the rest of the year:
Comic Con International (San Diego, CA: July 22-25)
Penny Arcade Expo (Seattle, WA: Sept 3-5)
Tokyo Game Show (Tokyo, Japan: Sept 16-19)
First up Comic Con International, right in our home turf, San Diego. We're putting together our biggest booth ever, completely redesigned and extra glorious. We'll have both Castle Crashers and BattleBlock Theater there for you to try out, and we're always excited to hear what you think! Oh, and did we mention the new toys? We like toys.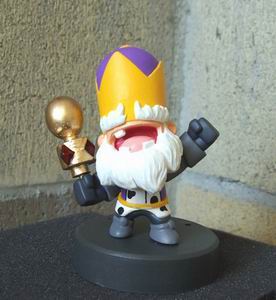 Check out the King figure! He is so happy that he'll be available at Comic Con and PAX!
In the next post, I'll tell you about some more of our fun new goodies, and we'll continue to update you on PSN Castle's submission progress as there is news.

kelly