Xbox One Backward Compatibility Super Sale
May 16, 2017

-

May 22, 2017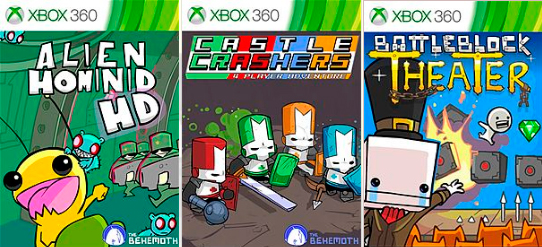 All of our Xbox 360 games are part of the Xbox One Backward Compatibility Super Sale! Get them at 75% OFF until May 22, 2017. They can be played on Xbox 360 or on Xbox One via Backward Compatibility! Click on the game name to buy the game:
–Alien Hominid HD: Single Player, Xbox LIVE Multiplayer 2-4, HD (High Definition). Buy the full version of Alien Hominid HD, the award-winning classic from the Behemoth. Includes 16 full levels in beautiful high-definition, 7 mini-games, and 50 all new PDA levels. With completely hand-drawn graphics, this one-of-a-kind Xbox LIVE Arcade title will make your console happy again!
–Castle Crashers: Local Multiplayer 2-4, Xbox LIVE Multiplayer 2-4, HD (High Definition). Unlock the full version of Castle Crashers and start your journey into a world of magic and mystery! Battle your way across frozen tundra's, deadly lava fields, and rival kingdoms in search of your kidnapped princess in this epic adventure. Eliminate your enemies with over 20 unlockable characters, 40 weapons to customize your hero with, and an arsenal of combos and magical attacks to choose from. Adventure together like never before – up to 4 can team up on the same console or over Xbox LIVE!
–BattleBlock Theater: Shipwrecked. Captured. Betrayed. Forced to perform for an audience of cats? Wait, what?? You've just unlocked the door to BattleBlock Theater! There's no turning back once you've started on your quest to free your imprisoned friends from evil technological cats! Immerse yourself in this mind bending tale of treachery as you battle your way through hundreds of levels in order to discover the puzzling truth behind BattleBlock Theater.