Update: Contest is now closed. We will be reviewing playlists and selecting a winner before the end of August 2014. Thank you to everyone who participated!
Starting on July 15th, we're accepting submissions for our BattleBlock Theater Arena Mode Playlist Creation Contest!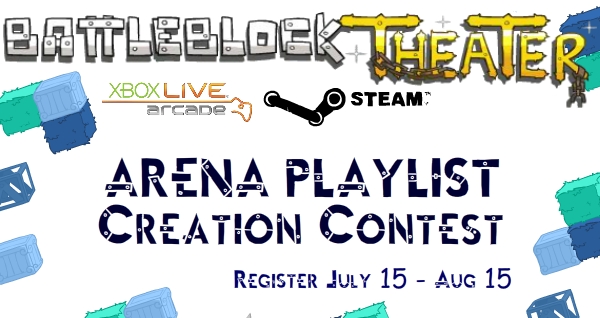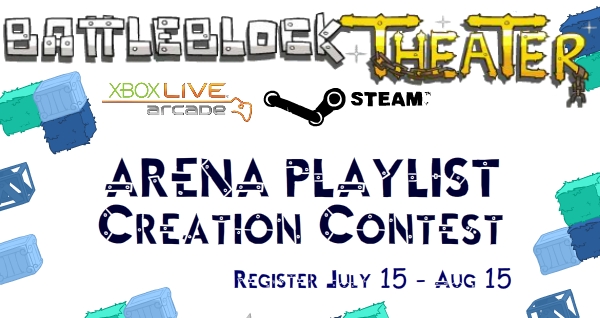 Anyone 13 or older can submit their original XBLA or Steam Arena Mode playlists for consideration. We're accepting playlist submissions from July 15th to August 15th.

The very best playlists for each platform (as decided by our panel of judges) will be awarded grand prizes or honorable mentions.

The grand prize will be some awesome BattleBlock Theater merchandise signed by our Level Designers, as well as immediate and exciting recognition as an Arena Mode Feature in-game. Honorable mentions will also receive incredible BattleBlock Theater merchandise, and consideration for future Features.

There will be one grand prize per platform (so that's two total — one for XBLA and one for Steam), as well as two additional honorable mentions per platform.

Important info before you register:
The Arena playlist creation contest is open to all residents of planet earth ages 13 and up. Participants under 18 will need permission from their parent or guardian to participate.
Only full Arena Mode playlists (15 levels) will be considered, so get those creative juices flowing!

1) Players must have an active Steam account or XBLA Silver or Gold account, and the full version of BattleBlock Theater on Steam or XBLA.

2) To qualify, players must register their original playlist. By entering a playlist, you agree that this playlist is your original creation (not one you snagged from your little brother or pet goldfish!). You may register one playlist per platform, per person (so two playlists total if you own BattleBlock on both Steam and XBLA). You must register each playlist individually.

3) You may submit previously created playlists for the contest, but playlists that have been Featured already are NOT eligible to win.

4) If players registering their playlists are determined to have hacked or modded accounts, or levels created with any tools outside of those available in-game, they will be disqualified. If registered playlists are determined to be created by someone other than their registered creator, or copied from a pre-existing work or another game, the registered creator will be disqualified from participating in the contest. If player registers more than one playlist per platform per player, all player's entries will be disqualified. All disqualification decisions are made by our contest staff, and are final.

5) Playlists will be reviewed and judged by our panel of Behemothian judges. All decisions are final. Purrham Furbottom HIMSELF has prepared a list of what makes a good Featured playlist — but please note that winning playlists do not have to follow the exact letter of this law. This is theater, after all — you never know what might happen.


Read the full Terms and Conditions
Register your Playlist!
Finally, register each playlist you would like considered individually. One playlist per entry; each person may register up to one playlist per platform (so two entries, one each for Steam and XBLA).