Well, we sort of missed the ball on getting a year-end review post up in any reasonable time. So what's been keeping us so busy lately you ask? You asked right? Well it's basically been BattleBlock Theater.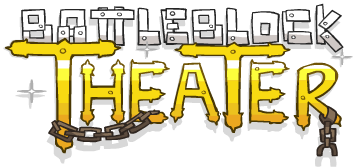 You remember our next game BattleBlock Theater (BBT) I hope? Hell yeah! We do too and it's pretty fun to play. I guess you'll have to take our word for it right now since we don't really have a release date yet. Rest assured though that our professionally trained staff of humans are hard at work smashing their collective brains against BBT.  A long time ago (2006) in a very similar geographic location, we were working on Castle Crashers for the GameCube! We decided it was cool but NOT COOL ENOUGH. Here's what it looked like:
We didn't feel like that was quite right. It's actually pretty embarrassing to look at. So anyway, this is why we took it back to the drawing board. We needed to tweak stuff and add awesomeness on top of it. This is essentially what's happening with BBT right now. Some of the largest steps forward have occured recently and we're so glad we didn't just settle on something that wasn't quite ready yet (and at the same time ready to explode from the excitement of handing it over). The good news is that our latest set of changes have saved us a bunch of time while making the game even more awesome than before.
So let's talk about Castle Crashers a little now. As of about a few minutes ago, there are currently over 2.6 million players listed on our leaderboards! If that's not awesome enough, this year we will see that number reach 3 million! Hopefully all of this happens before Mayan spaceships descend on our planet at the end of the year. To top it all off we're still the highest rated arcade title for all of XBLA! This of course has nothing to do with us, and everything to do with you. Yeah, you! Want to know what else you're responsible for? We were voted Best PS3 Downloadable Game in the annual PlayStation Network Gamers Choice Awards. So much love!
We haven't made a giant pile of games in our short 8.5 years as a company; but the ones we have made seem to have a lasting impact. We are proud! These games are our children. We raise them, teach them things, and then release them out into the world for a price? (ok maybe that last part sounds sorta creepy) Since our games help us so much we are able to do more things than ever before. We've opened up our own in-house test team (aka Testopia), hired a full-time plushie designer (AnnaTheRed!!), developed two iOS games (Super Soviet / PDA Games), hired our first full-time artist to help Dan and do awesome things (I know crazy right? We have 2 artists now) and even built our very own usability lab (no name yet, but I'm calling Labtopia) where we monitor people's reactions to our developing children. As we finish BBT, work on new games, make a bunch of cool merchandise, we are always reminded that it's because of all of you that we are still around to do any of this. Respect!
RESPECT.
-The Behemoth