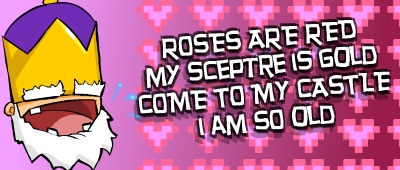 Hello! We have always wanted our King Pack for Castle Crashers to be FREE. And it's not!! SO, in order to achieve this we went ahead and bought a ton of download codes from Microsoft for our King Pack to give to you. Yes!

All that you have to do to receive the code for FREE stuff is write "behemoth loves me!" on the Behemoth Loves Me! forum thread and Kelly shall private-message you your code for a FREE King Pack to download for Castle Crashers.
Now — Kelly has been copying and pasting hundreds before I even posted this so please keep in mind that you might not get your code instantly – she asks that you please be patient. She's making good time but her hands might break and we'll have to tape them together again.
We will run out eventually so if you want this you must pounce!
Update: We have reached our limit of free download codes. If you've already made a post on our forum thread or messaged Kelly on our Facebook page then you have one reserved. We're sending them out as fast as we can so it might take a few days to get to you.
Also, some new places to check up on us:


much love,
-dan